The Right Reverend V. Gene Robinson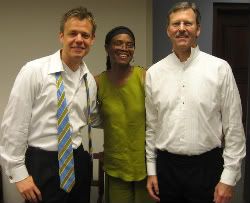 is the most dangerous bishop in the worldwide Anglican Communion. But witnessing this man of quiet dignity and humble beginnings join in civil union with his partner, Mark Andrew, you must ask yourself: why?
Robinson, as I have watched him through the years, is indeed dangerous. And what makes him dangerous is his openness about his life.
As the ninth bishop of the Diocese of New Hampshire in the Episcopal Church, Robinson is also the church's first openly gay, noncelibate priest. And the firestorm that his openness ignited has a church on the brink of schism.