Isn't this special? "Exhausted" Rick Warren recently bailed on an interview with George Stephanopoulos on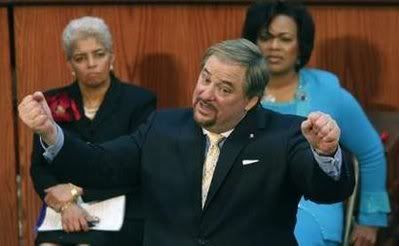 This Week just days after the Saddleback pastor was caught lying about his support of Prop 8 on Larry King Live ("I never once even gave an endorsement in the two years Prop 8 was going." Bzzzt, wrong answer) and denied suggesting same-sex marriage was morally equivalent to incest and pedophilia ("I was asked a question that made it sound like I equated gay marriage with pedophilia or incest, which I absolutely do not believe." Bzzzt, wrong answer.).
After I discussed the serial lying of Warren on international TV in my post, it was picked up by Huff Post and spread like wildfire. It obviously made it back to Warren's hive and one of his drones, Christian music artist Jim Anderson a "media representative" for the Saddleback pastor, sent out a missive to me to attempt some damage control ("Rick Warren's peeps start up the damage control machine - massive FAIL").
Now I've learned that Rick Warren's so desperate to repair his rep with the fundies (they blew up after he appeared to back away from the marriage issue ("True believers are angry at Rick Warren's 'betrayal' on Larry King Live") that folks high up in the food chain of his org are trying to white-wash the pastor's Wikipedia entry.