Note: Perez just gave an interview to The Advocate.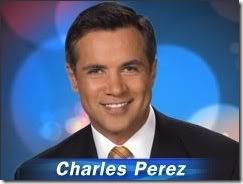 The Miami Herald's Steve Rothaus reports on the discrimination lawsuit and subsequent firing of WPLG-ABC's Charles Perez, who alleges that the station demoted him to weekend anchor/reporter "because of their discomfort over the increasingly high profile of my sexual orientation." The station's POV:
Station executives recently told Miami Herald columnist Joan Fleischman their decision was driven by economics.

WPLG Vice President and News Director Bill Pohovey denied Perez's claims: ``This is an outrageous accusation," Pohovey said Monday in a statement to The Herald. ``As a gay man myself, I can safely say the Station does not discriminate against gay people. Charles' claim that the Station discriminates against gay people is untrue and offensive."
The red flag in this story is the appearance of station's discomfort with Perez's increasingly messy private life. The MIami-Dade anchor's name has been in the local news because of abuse charges against his former partner Dennis Ricardo Peña, whom Perez filed a injunction against for protection against domestic violence for being ''stalked, harassed and threatened'' by Peña. There are also charges and counter charges about whether Perez's email was hacked and confidential information disclosed that the anchor felt could damage his professional rep.
You won't believe what else was released. It's below the fold.