Back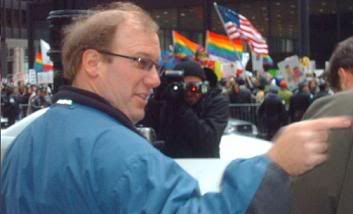 in 2007, Americans For Truth About Homosexuality was planning to hold one of its pitiful fundraising banquets at the Holiday Inn Select in LaBarbera's town of Naperville. He told staff there that there that he expected the homophobia-laden event would draw protestors. Six weeks before the event, the hotel canceled on him, citing "potential negative publicity."
So now The Peter is dropping a federal discrimination lawsuit on Holiday Inn -- based on bias against AFATH's religious beliefs against homosexuality. OK. Look at how weak this is:
LaBarbera did not have a written contract, and no money was exchanged, but he said organizers verbally worked out details of the 100-person event, including the menu, during two meetings.

..."It's always easy to come up with excuses," said LaBarbera, AFTAH's executive director, "but the real truth is they didn't like our message. If you allow this sort of hecklers' veto, you're sanctioning discrimination."