Pastor Rick Warren attempts to straddle a volatile issue -- Uganda's legislation that calls for the execution of gays -- and commits a double twist, backflip FAIL by saying "As a pastor, my job is to encourage, to support. I never take sides."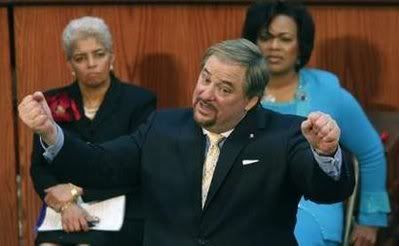 Timothy Kincaid at Box Turtle Bulletin:
Warren is not hesitant to interfere in international religious divisions or schisms. Though not Anglican, he has been a major player in providing American support to African Anglicans who are seeking to oust any affiliates from the Anglican Communion that make any accommodation for gay Christians.

...[He]'s no stranger to activism on behalf of legislation. Though he was not highly visible in supporting Proposition 8, he did not hesitate to instruct his flock - which does not stop at the walls of his church - to vote to take away the civil rights of their gay neighbors.

But Warren has now found the one exception to his political involvement. And that exception is the proposed Ugandan "Kill Gays" bill. Unlike virtually anything else that flickers across his attention, this piece of legislation just doesn't rise to the level of requiring his involvement. That would be "interfering in the political process of other nations."

Or maybe Rick Warren just doesn't find it unethical on the part of leadership in Uganda to execute HIV positive gay people, incarcerate the rest for life, ban any form of activism that might object, and jail those family, friends, or acquaintances who fail to report their gay loved ones to the government.
Yes, let's go to the videotape...