It's been a busy news cycle for LGBT rights in the state of Illinois and around the country. Marriage equality is on the march in court cases and through legislative bodies, Pride month has focused attention on LGBT issues, and the November elections with their renewed "culture wars" are looming.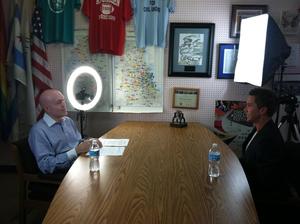 That's why I was pleased to sit down with Illinois State Representative Greg Harris, the highest ranking openly gay elected official in the State of Illinois, and talk in-depth about the pressing issues facing the LGBT community not only here in the state, but nationally as well, for my new show Critical Thinking on Gay Chicago TV.
Rather than just be another news clip or headline show, we are really working to make Critical Thinking a more in-depth discussion show with newsmakers and opinion shapers on all things relevant to the LGBT community - and Rep Harris did not disappoint. Our discussion really broke down not just the usual talking points around the topics we covered, but the underlying issues that play into it as well.